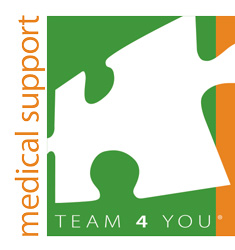 As we are constantly trying to improve and expand the services provided, we have assembled a team of representatives intended for support of the products of our partner companies in the pharmacy environment, that is, in doctor's offices and waiting rooms of general practioners and specialists. Utilizing the medical sales representative team is not dependent on cooperation with TEAM 4 YOU on the pharmaceutical market (pharmacies). Cooperation can be applied only for addressing and presentations for doctors.

Currently, three teams of medical sales representatives led by a regional manager cover the entire Czech Republic and another team provides outsourcing services in Slovakia. Their activity consist not just of communication with doctors themselves but also of the distribution of the information and promotional materials of partner companies to doctors' office waiting rooms. The concrete number of medical sales representatives as well as the specialization of doctors can be modified in accordance with the individual requirements of the partner.

The waiting rooms of general practioners as well as specialists represent the optimum environment that is daily visited by thousands of patients. While waiting to be examined, patients have time to peruse and perceive the health information (fliers, brochures, stands, etc. – hereinafter referred to as POS), and react in such a way that on their next visit with the doctor or pharmacist they will consult the information obtained or given health issue with them. POS also plays the important role of a reminder during ongoing media campaigns.

We place great emphasis on very correct to friendly personal relationships with doctors based on perfectionist presentation of products including professional information and data. Our database of visited doctors is continually being updated and supplemented.

Representatives of partner companies have the opportunity to take part in joint meetings of the medical sales team and learn about the opinions and the experiences of representatives directly in the medical environment. Following individual agreement, a survey or inquiry among doctors and medical office personnel can be carried out.

If you are interested in obtaining more information regarding the functioning and possibilities of outsourcing of the team of medical sales representatives, please contact us.